FAQs about our insurance agency commission-based loans
AgileCap is a specialty lender, focused exclusively on the insurance agency industry. We provide loans for insurance agencies in need of fast, flexible, customized business loans. We help our clients capitalize on growth opportunities and fund agency growth initiatives.
Unlike traditional banks, AgileCap understands the primary asset of any insurance agency is its book of business. AgileCap is able to collateralize this asset in a way that traditional lending institutions are unable or unwilling to do. Our flexibility and understanding of the insurance industry sets us apart from other lenders.
We are fast, flexible, and knowledgeable. When agencies come across growth opportunities—acquiring another agency, purchasing a book of business or undertaking a marketing or staffing growth initiative—it's critical to find a lending partner who can provide funding quickly, and customize funding to the particular agency's financial situation, plans, and goals. As a specialty lender, AgileCap does exactly that, allowing agencies to capitalize on growth opportunities.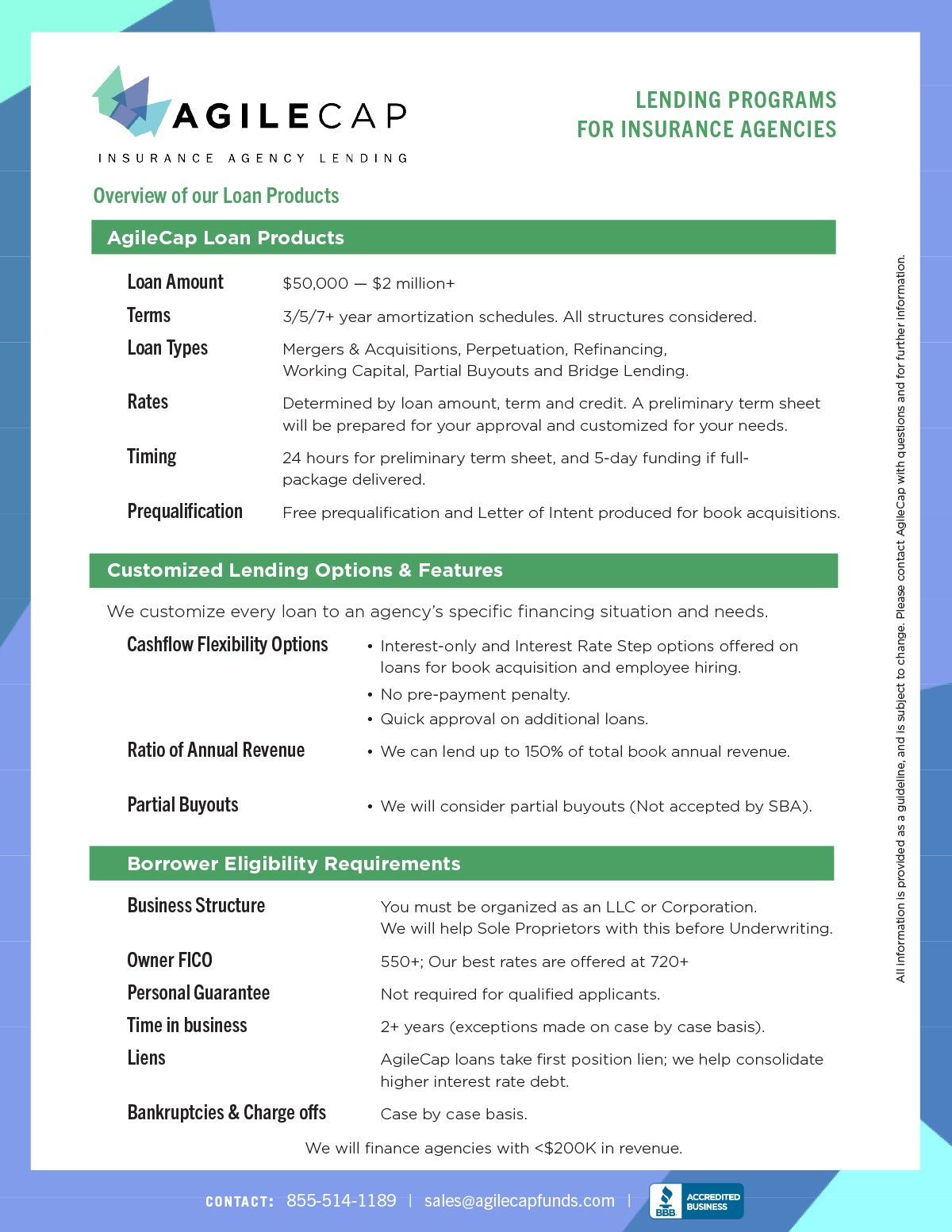 There is a one-time set-up fee typical of most commercial loans. This fee is based on many factors, including the amount you are borrowing and your credit score. We do not charge annual fees. We do not charge pre-payment penalties. Typical of all lenders, late payment fees do apply.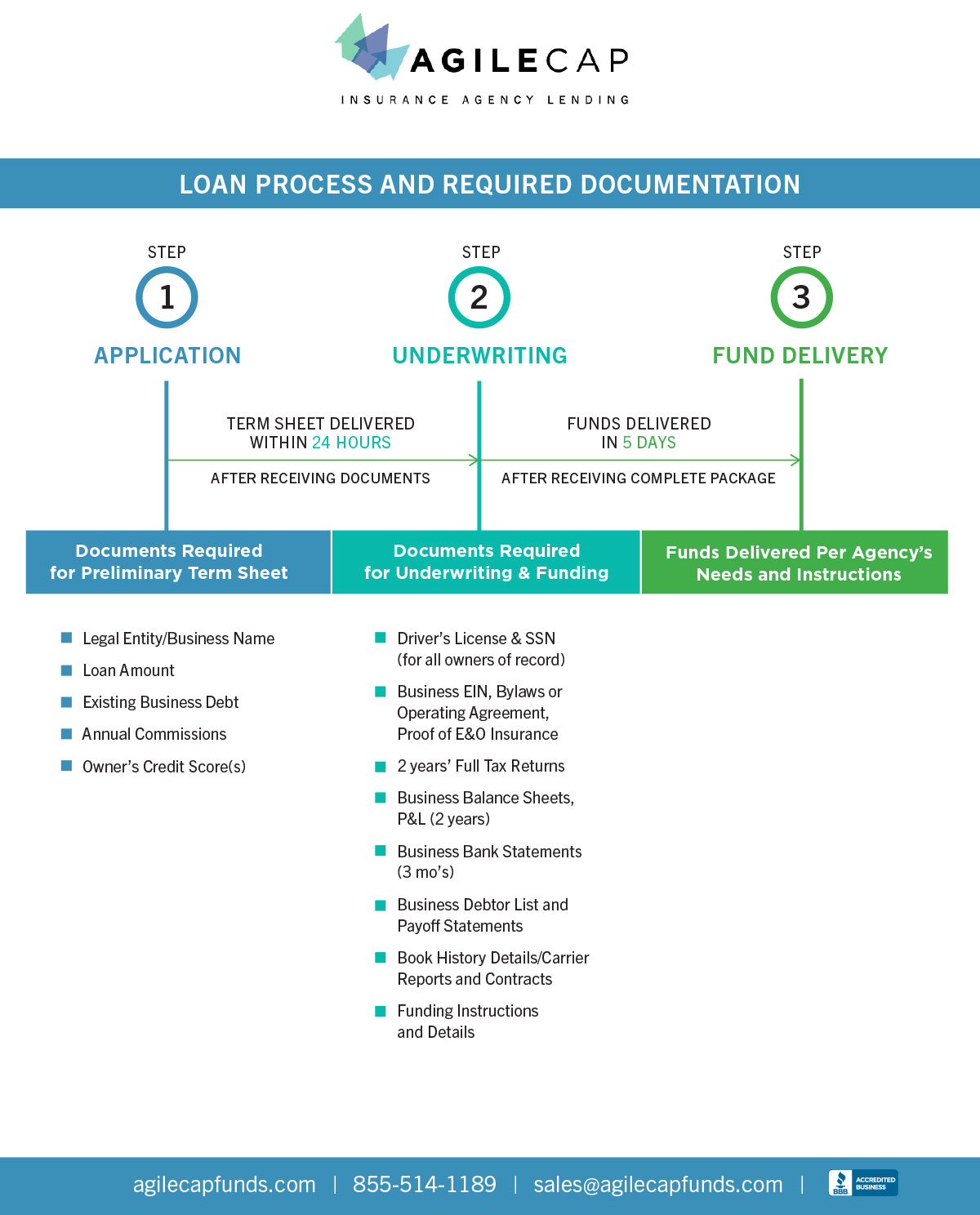 After an initial conversation with you, we'll ask you to fill out a loan request. Within 24 hours of receiving your loan request, we'll send you a preliminary term sheet for your approval. Once you approve your preliminary term sheet, we provide you a list of documentation required for underwriting your loan. Once all of those documents are received, we can deliver your funding within as little as 5 business days.
If your loan proceeds are being used for an acquisition or paying off an existing debt, we send them directly to the seller or institution. Funds used for capital expenses and other growth initiatives are placed directly in your business operating account for immediate use.
Yes. We frequently consolidate higher rate debt for our clients. We also require to be in 1st lien position, so if you have other business debt already, you will want to take that into consideration.
As AgileCap is a commercial lending provider, all our clients must be set up as an LLC or Corporation prior to loan funding.
AgileCap is a direct lender and has a full internal underwriting staff. We do not farm our clients out to other institutions. However, if we determine your needs are better suited for one of our partner organizations, we will make the proper introductions. Our client's best interest is always placed as priority number one.
We take your security very seriously and follow the required information security practices to maintain the integrity of your information. We can never see or store bank/data source login information, and we have no access to save or change your bank account data.
We often work with our clients on multiple growth initiatives. We are set up to be your ongoing lending partner, to help you capitalize on successive acquisitions or growth campaigns. We will develop a creative lending strategy to fit your specific needs.
Yes. And, we work with clients on an individual basis, so if there is a justifiable reason for a qualification issue, we are able to adjust when it financially makes sense.
We've found that the best way to understand an agency's financial situation, growth plans, and goals is to have an in-person conversation. We know that online applications are convenient, and we've tried using one, but we've found that a quick 30 minute conversation is actually more beneficial to our prospective clients and our information gathering process. And the conversations are truly no pressure. You can start a conversation about your funding needs and agency plans by giving us a call, sending an email, scheduling a time to talk, or filling in the form below.